Persistence 2023 Liquid Staking Roadmap Update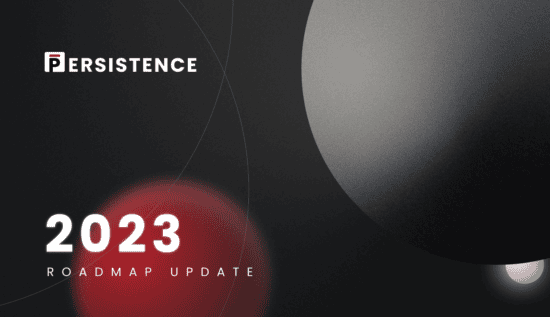 Q1 2023 for Persistence can be best summarized in a single word—'Rollout'. With the native launch of pSTAKE in Jan 2023 & Dexter in March 2023, the liquid staking hub of Cosmos has started molding itself into the one-stop for all things liquid staking— LST issuance & DeFi.
Thanks to these key advancements, on-chain activity is booming like never before:
•$4M+ chain TVL
•$3M+ worth of $ATOM has been liquid staked in 1500+ transactions on pSTAKE
•$400K+ worth of $stkATOM has been redeemed instantly by 571 wallets (only available with pSTAKE on Persistence)
•$1M+ TVL on Dexter ($300K+ in $XPRT liquidity)
•$300K+ volume processed by Dexter in its first month
The Persistance team is of the opinion that now that the fundamental elements required for a prosperous liquid staking economy are established, it is time to concentrate on three critical areas: On-chain Traction, Expanding the Ecosystem, and Bolstering Infrastructure. The 2023 roadmap outlined below delves into specific aspects within these three areas over the upcoming months, highlighting how each element will contribute to the growth of Persistence and benefit its diverse stakeholders, all driven by XPRT.
1. On-chain Traction
Persistence will be onboard as a partner chain for Replicated Security, It will give the Persistence Core-1 chain a boost of ~80X in terms of Economic Security. The Core-1 team believes that adopting Replicated Security will help Persistence enter and eventually become a big part of this AEZ alongside others like Neutron & Stride.
Persistence aims to be the first chain to enable the LSM and be the playground for the entire Cosmos to test its novel benefits. With the LSM on the Core-1 chain, stake delegators can perform transactions that were impossible before, like moving staked tokens between wallets or converting their native stake to liquid stake.
Persistence will implement Oracle with price-feeder to external systems and enables decision-making for existing contract logic based on these data inputs. Besides providing essential price data feeds, the Oracle will also filter & authenticate the integrity of the information crucial for executing specific contracts in a decentralized manner
2. Expanding the Liquid Staking Ecosystem
The Core-1 team will work closely with the pSTAKE team to bring EVM-based stkASSETs issued by the pSTAKE protocol (like stkBNB & stkETH) to the Core-1 chain in partnership with bridge/interoperability protocols like Axelar. This will further cement Persistence as the center of liquid staking activity.
In line with this expanding, the Core-1 team will actively explore and consider the different options available in Cosmos today–Replicated Security, Babylon's Bitcoin Security, & Mesh Security. This will improve the chain's security significantly and open a new dimension of economic dialogue–imagine an appchain for liquid staked tokens secured by the Cosmos Hub
3. Bolstering Infrastructure
Upgrading the Core-1 chain to v47 will bring various performance and functionality benefits, including CometBFT & ABCI1.0
Persistence will implement other add-ons: Group module, PFM, IBC Wasm Hook.
Conclusion
The Persistence Core-1 chain is an appchain for liquid staking with a vision to bring about a new paradigm in PoS by being the one-stop-shop for liquid staking–issuance of & DeFi for LSTs. Working towards the three essential aspects–On-chain Traction, Expanding the Ecosystem, & Bolstering Infrastructure is naturally the next step in making Persistence synonymous with liquid staking.