Fetch.ai Community Integrations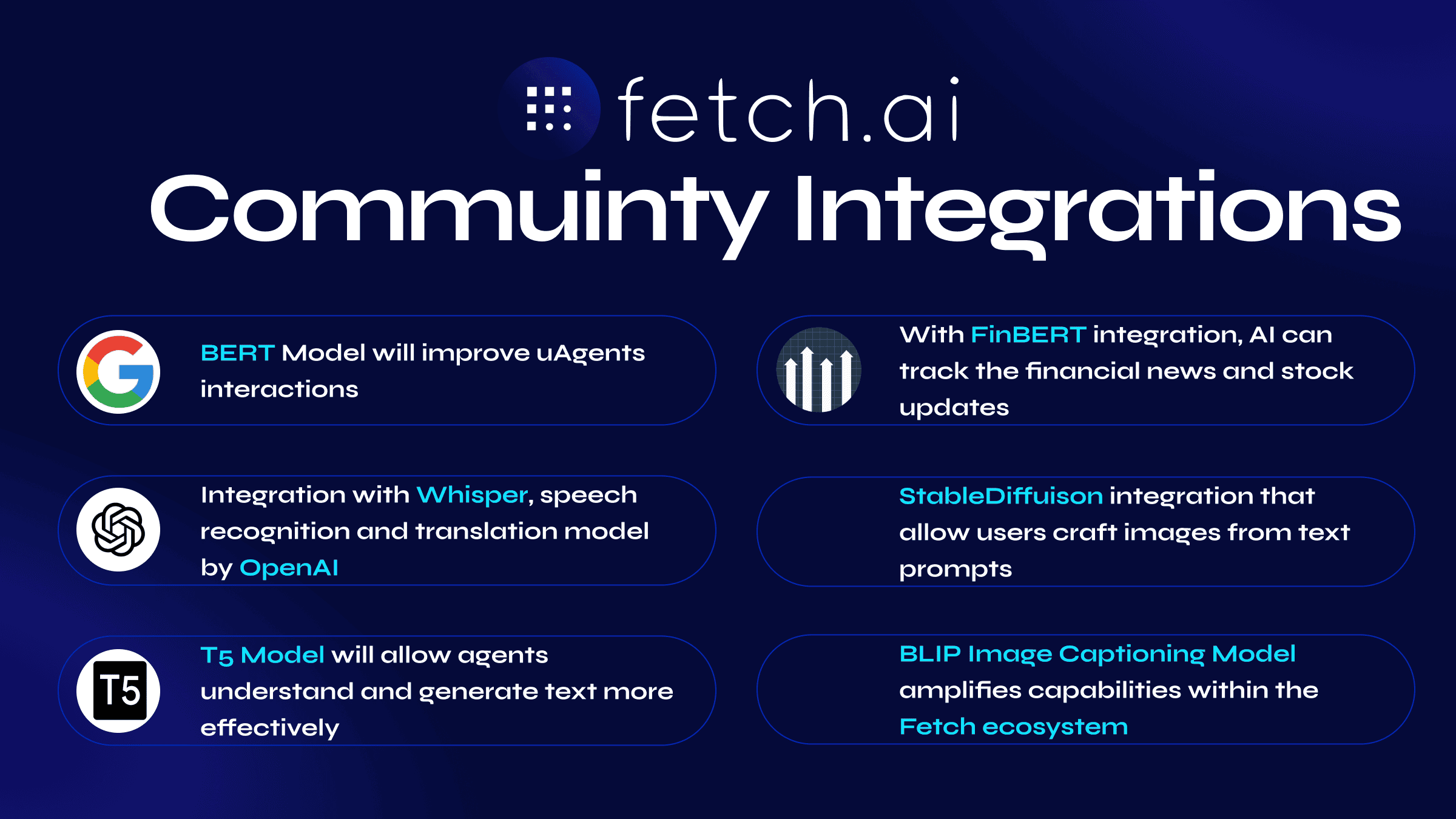 Fetch.ai thrives on ceaseless innovation, with a community continuously pushing boundaries
The Dev community's latest integrations of AI agents showcase a blend of creativity and technical skills.
Sangramsam, Fetch's community developer who was also the force behind integrating the FinBERT model with uAgents, has implemented the model's base, called BERT, into the AI agents fold. With the integration of BERT, uAgents are set to offer improved interactions, signifying a blend of technological advancement and collaborative innovation.
Whisper model, renowned for its speech recognition and translation, allows our AI agents to understand and transcribe spoken language directly. Whisper is more than just an ordinary speech recognition tool. It is a model trained on a staggering 680k hours of labeled data. What you get is an exceptional ability to adapt to countless datasets and domains. With Whisper, no constant tweaking or fine-tuning is required. The model stands out because of its flexibility, robustness and the sheer depth of its training.
rajnaSaikia just wove the magic of the T5 model into the fabric of the Fetch.ai agents. With this integration, agents can now understand and generate text more effectively - offering smoother interactions, translations, and answers - all in real-time. Agents can reframe all NLP tasks (translation, document summarization, question answering, sentimental analysis and more) into a unified text-to-text-format.
PrajnaSaikia presented a very useful new addition that promises to significantly redefine user interaction paradigms: the integration of the Stable Diffusion v1.4 model to uAgents. The infusion of the Stable Diffusion model into Fetch.ai's ecosystem offers untapped avenues. The potential of this integration is vast. Enhancing user experiences with rich visual content is indeed an exciting frontier.