Cosmos Weekly Recap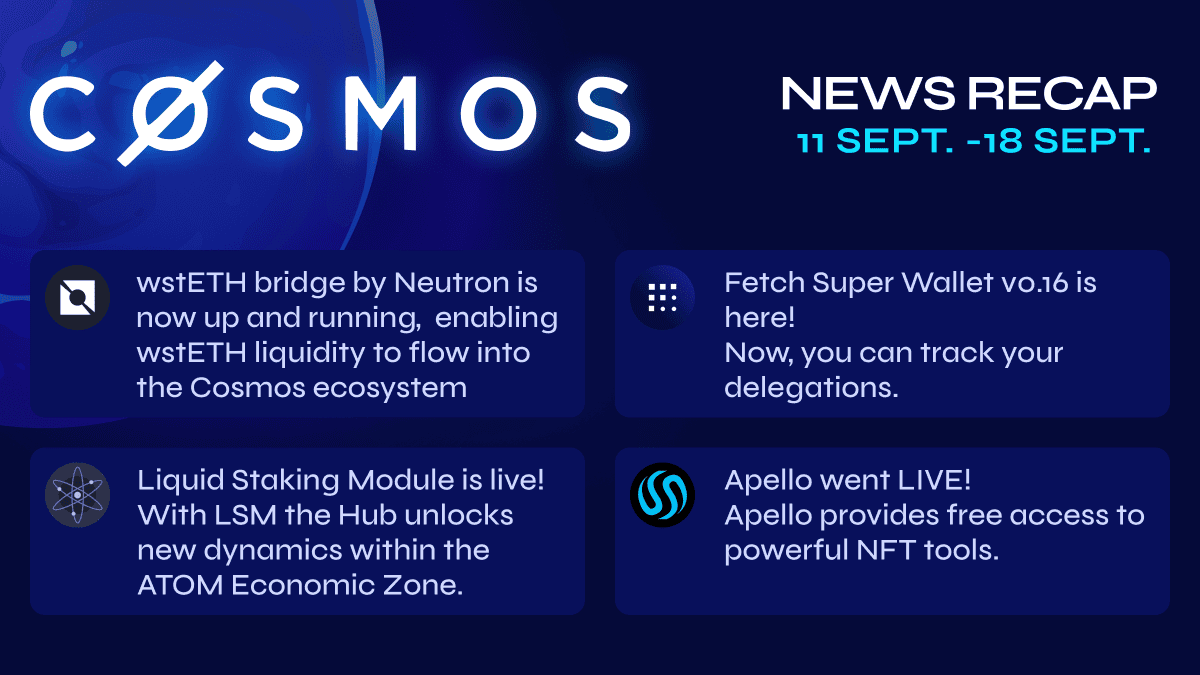 Fetch SuperWallet has been updated!
Fetch.ai Wallet 0.16.0 brings an integral feature: in-wallet redelegation support. Now users can easily move staked FET between validators without the hassle of unstaking. This new feature bypasses the 21 day unbonding period. The significance and implementation of redelegation stand at the core of our mission, enabling users to play an active role in reinforcing network security.
Appelo is here!
Apello is now live on Injective. Apello is a comprehensive suite of tools designed for Cosmos NFTs. It offers a wide range of features and capabilities that enable users to easily manage and track their NFT collections.
wstETH is live in the AEZ✴️
Powered by LidoFinance and Axelar, the wstETH bridge is now up and running, enabling wstETH liquidity to flow into the Cosmos ecosystem. To ensure a smooth onboarding experience, the bridge rewards users with a small amount of gas. This should allow bridgeooors to hit the ground running.
Cosmos v12 upgrade is successfully completed ⚛️
The Liquid Staking Module is live on the Cosmos Hub! With LSM the Hub unlocks new dynamics within the ATOM Economic Zone. Users can now directly liquid-stake their already staked $ATOM without waiting for the unbonding period.